2291 2nd St W. Ballantine, MT 59006
Contact:      Liz Freeman at 406-967-3400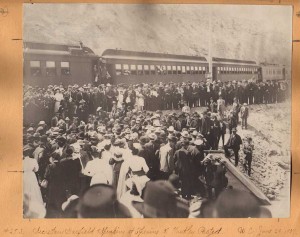 The Huntley Project Irrigation District originated from an irrigation project in southern Montana that was established by the United States Bureau of Reclamation in 1907. The district includes the towns of Huntley, Worden, Ballantine, and Pompeys Pillar.
The project took its name from the town of Huntley, a station on the Northern Pacific Railroad. In 1907 the new Huntley Project townsites of Worden, Ballantine, and Pompeys Pillar were laid out at intervals of about six miles along the railroad. On May 21, 1907 President Theodore Roosevelt declared the Pryor Division to be open for settlement. One month later, Secretary Garfield attended the Opening of the Huntley Project on June 26, 1907.   Farm units were distributed by lottery, but the pace of settlement may have been slowed by "lottery fanatics" from nearby Billings who drew numbers out of idle curiosity, with no intention of settling on the land. Of the first 1,000 names drawn, only 76 applied for a farm unit. The population of Huntley Project farms rose to 2,107 in 1917, but fell again to a probable low of 1,015 in 1923.
In 1882 the city of Billings, linked to the Northern Pacific Railroad, was founded within a few miles of the Crow reservation. In 1904 the United States government obtained the northern part of the reservation by cession from the Crow Indians.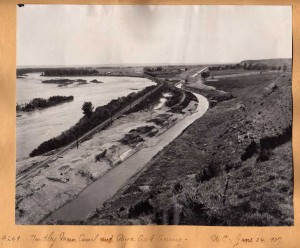 Congress authorized the Reclamation Service of the U.S. Department of the Interior to survey the land for a possible irrigation project. The Huntley Project, the fifth federal project to convert arid western land to farmland, was authorized in April 1905, and construction began in October. Despite cost overruns and unforeseen problems, the Pryor Division of the project, including Worden and Ballantine, was completed and receiving water by 1907.
The Huntley Project exemplifies how a Reclamation project lead directly to the development, settlement and agricultural growth of a previously unfarmed area. Lands purchased by the United States from the Crow Indian Reservation were transformed from sage-covered range to farms blanketed with fields of sugar beets, corn and alfalfa.
Settlers homesteading on project lands endured periods of slow, steady growth coupled with financial hardships. Farmers able to negotiate the difficult times prospered and grew as the project developed. Success of the project can be attributed to the ambitions and determination of the settlers who overcame strife to become successful farmers.