The Huntley Project Red Devils have sports programs that are sure to inspire, energize, and excite you to attend.  From football, basketball, wresting, volleyball, track & field to speech & debate.  Here are the 2015-2016 following sports schedules at Huntley Project High School.  As the new sports and schedules are produced, we will have them posted here.  Thank you for your interest and support of the Huntley Project Red Devils.
Please let us know if you have any ideas on how we can make this info more available to the public and help support our Huntley Project Sports activities and Athletic Department. Please be patient as this page is being developed as well as the Huntley Project Red Devils .com Website  to help promote the sports and activities at Huntley Project High School.   
thank you, Huntleyproject.net

Athletics
Huntley Project Red Devils have been one of the most successful programs in Class B athletics over the past 20 years. Through hard work, determination, and team work, many championships have been won.
Football
The Huntley Project Football team has a 53-3 record over the last 5 seasons they have also won back-to-back State Championships. The Red Devils went 12-0, winning the Montana Class B State Championship by beating the Fairfield Eagles 31-0 on November 21, 2009.
Head Coach: Guy Croy
Assistant Coach: Mark Wandle
Assistant Coach: Wes Lindeen
Assistant Coach: Lenny Brown
Assistant Coach: Ben Lambert
Assistant Coach: J.D. Weber
State Championships: 1998, 2008, 2009, 2010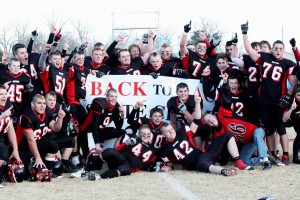 Photo of 2009 State Champion Football Team
Photo of 2014 2nd place – State Class B

    Photo of 1950 HP Football Team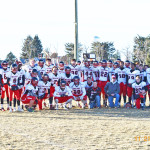 2015-2016 2nd Place Football team
Volleyball
Huntley Project Volleyball Lady Red Devils
Head Coach: Iona Stookey
Assistant Coach: Sarah Reynolds
Assistant Coach: Jay Selman
State Champions: 2003, 2004, 2006, 2007, 2009, 2010, 2011, 2012, 2013, 2017
2nd Place at State: 2014,2015, 2016,
HP volleyball since Iona Stookey started Fall of 1990
2017 marked Head Coach Iona Stookey's 10th state title and 18 years in a row in the state championship game. 
HP has won 9 State Championships out of the past 11 years.  HP has taken 3rd 3 times since coach Stookey started.  HP has placed second 2 times and won it 9 times.  2013 marks the 5th Championship in a row.  Iona has been coaching and teaching at Huntley Project for 24 years.  HP VB has an overall record of 646 wins and 156 losses as of Dec 2013.   HP has made it to the state tournament 16 out of the 24 years since coach Stookey has been there.  Finally, HP has made it to divisionals every year.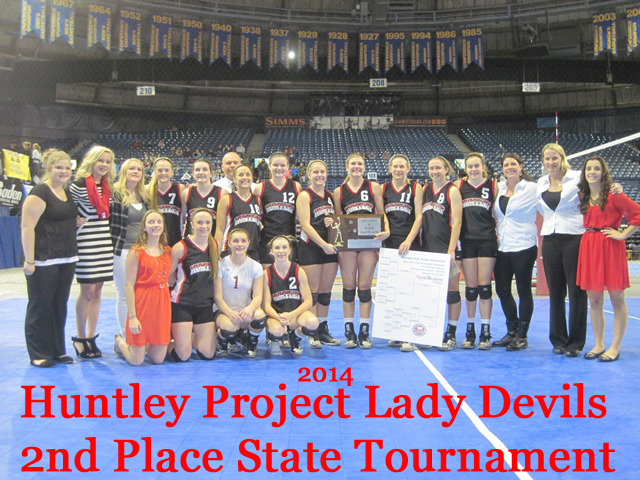 2014 2nd Place at State volleyball Tournament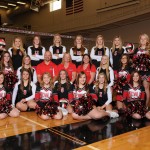 2013 Volleyball State Champions
 –
Cross Country
Head Coach: Tara Christman
Head Coach: Mara Beard
Assistant Coaches: Jay and Susan Mack
Two Montana All State Selections For 2007: Kaitlyn Wurnig and Chancey Stirling
Boys Basketball
Head Coach: Mark Branger
Assistant Coach: Mike Kragt
Assistant Coach: Dustin Gaugler
State Champions: 1999, 2007
Photo of 2010 HP divisional champs
Photo of 2010-2011 basketball team.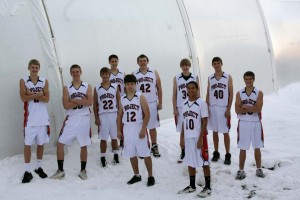 Girls Basketball
Head Coach: Sara Reiger
Assistant Coach: Jay Santy
Assistant Coach: Ron Reed
Managers: Madi Lemieux, Bailey Craig, and Mike Hawk
Wrestling
Head Coach: Tim Kaczamerak
Assistant Coach: Dale Cole
Assistant Coach:
Assistant Coach:
State Championships: 1986, 1987, 1988, 1989, 1991, 2000
Boys and Girls Track
Head Coach: Mark Wandle
Assistant Coach: Mark Branger
Assistant Coach: Kelly Brutecki
Assistant Coach: Jay Santy
Boys State Championships: 1989, 2006, 2007
Girls State Championships: 2004, 2006, 2007
Softball
Head Coach: Jim Knapp
Assistant Coach: Carrie Greenwalt
Assistant Coach: Neil Danielson
Golf
Head Coach: Jay Selman
Assistant Coach: Marlene Krum
Activities
Student Council
President: Taylor Dees
Vice President:
Secretary:
Treasurer:
Cheerleading
Advisor: Brooke Rienhart
Advisor: Tanner Rienhart
Huntley Project cheerleaders keep crowds at games enthusiastic while performing 'stunts'. They also volunteer throughout the community.
BPA
Advisor: Derek Miller
BPA stands for "Business Professionals of America." It is an organization of high school students throughout the nation. Members of BPA compete in business related events.
FFA
Advisor: Shelia Schenkin
FFA is an organization of high school students who compete in agriculturally based events. FFA also plays a large roll in the community hosting many fundraisers and service projects. Huntley Project FFA competes well every year consistently qualifying several people for the national competition.
Pep Club
Advisor: Amber Steiger
Pep Club plays a large part throughout the school. They are responsible for creating banners supporting the classes and sports teams that are displayed in the gymnasium. They are also responsible for creating locker signs for participants in athletics and activities to show support.
National Honor Society
Advisor: Kimothy Koenig
National Honor Society is a group of students who have shown exemplary academic performance.
Band
Director: Aaron Morgenstern
Other: Ayner McQuinn
The Pep band plays at athletic events in addition to being members of the concert band that plays regular concerts.
Choir
Director: Janet Morgenstern
The choir is a large group of Huntley Project students who regularly performs in concerts to entertain the community.
Speech and Drama
Head Coach: Bonnie Ortner
Assistant Coach: Jacki Reed
Huntley Project's Speech and Drama team is a contender for a state championship. With a large group of incredibly talented students performing in a unique variety of events they win many competitions.
State Championships: 2004
FCCLA
Advisor: Jean Otter
FCCLA stands for Family Career Community Leaders of America. They regularly partake in service projects. They also compete in regional, statewide, and national competitions.
Majorettes
Advisor: Joleen Johannes
Majorettes is a girls dance group
Newspaper/Annual
Advisor: Bea Wilson
This group is responsible for the production and quality of the Annual yearbook as well as the school newspaper, the "Red and Black Attack."