9717 Shepherd Rd
Shepherd, MT 59079
Phone:     800-359-2890
                   (406) 373-5811

Montana Log Homes:
Why buy Montana Log Homes from Paramount?
At Paramount Log Homes we use the best materials available for log home construction.  The choice of materials is influenced greatly by region, availability and cost.  What is used effectively in Montana may be different than that used in Florida, Tennessee, or California (due to differences in climates, forest types and transportation).  Most manufacturers offer high quality packages that provide an excellent home for consumers.  The consumer's job is to determine which features are most important to them and which company provides those best.  Some factors that should be considered in making your decision are style of home, floor plans, customer service, value, and price.
Materials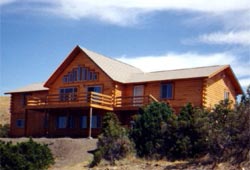 The logs used in construction of the walls in our Montana log homes and cabins are milled from ponderosa pine stock.  Pine has many great features, such as a pleasant appearance, good thermal properties, minimal twisting or bowing, an abundant supply, limited checking (splitting in the wood), and an affordable price.  Other wood can be used, but for us, pine offers the best value.   For structural support, such as beams for lofts, fir is utilized for its sturdiness.  For corner trim we use cedar strips, as they provide a pleasant appearance, a nice scent and good protection.  Beyond these areas, we utilize many conventional construction materials such as engineered floor joists, trusses, OSB sub-flooring, insulation and other materials that make modern construction affordable and durable.
The Milled Log Advantage
In modern log homes there are two basic options of log styles: hand-hewn and milled.  At Paramount we have chosen to focus on milled logs due to the value, efficiencies and structural advantages provided.  Our mill pattern is for an 8" wide by 7" tall double tongue and groove log.  We also machine mill the corner sockets for maximum structural soundness and weather-tightness.  Milling allows for a product that can be assembled easily, due to the fact that the pieces fit together snugly and consistently (like working with big pieces of Lego).  The result is an attractive, strong, efficient and affordable structure that is put together quickly and offers decades of enjoyment.
Construction
Assembly of our Montana log homes consists of following a simple log plan and putting each log into its designated location.  A log home wall is built one course at a time (a course is a row or level of logs; a typical wall will have 14 rows or courses to it).  As each course of logs is placed, it is sealed with foam insulation and lag bolted every 3' to the surface below.  At each joint (location where logs meet on the same course—corners and butt joints) a 1¼" hole is drilled and then filled with bonding insulation and a 1" diameter wood dowel to provide maximum thermal efficiency.  Proceeding in an orderly manner with an efficient crew, the walls on a large home can be raised in just a few days.   Once the exterior walls are completed, the rest of the construction process proceeds the same as in conventional construction.
Location:
Paramount Log Homes is based out of Shepherd, Montana about 10 miles East of Billings, MT.  We specialize is custom log homes in and around the Billings Montana region.  From Columbus and Park City to Roundup and Custer, we provide customer service montana style.  Please let us know if you have any questions and how we can make your experience more enjoyable with our western homes and country-style log cabins.
Models:
Lewis & Clark  |  225 sqft
Glacier  |  447 sqft
Custer  |  639 sqft
Big Horn  |  936 sqft
Treasure  |  1,008 sqft
Powell  |  1,352 sqft
Yellowstone  |  1,590 sqft
Sheridan  | 1,759 sqft
Montana  |  1,959 sqft
Liberty  | 2,173 sqft
Pondera  | 2,260 sqft
Stillwater  | 2,271 sqft
Grand Montana | 2,539 sqft
Powder River  | 2,968 sqft
Teton  | 3,734 sqft
Big Powder River  | 3,779 sqft