2029 Grand Ave.
Billings, MT 59102
Phone:

   Cell: (406) 671-0848
                  Fax: (406) 545-2240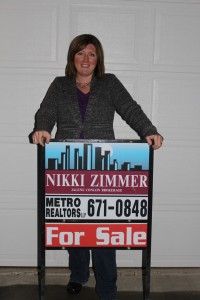 I have lived in the Huntley Project area for almost 9 years and just love it! My husband and I are both originally from Glendive so we love the smaller community feel and smaller schools for our children. I've been married to my husband, Pat for 13 years and we have four beautiful kids. Jordyn is 11 and is a 5th grader, Lily is almost 8 and is in 2nd grade. Griffin is 4 and goes to preschool and Payton is just 3 months old.
I have been living the dream of selling real estate for 7 years and truly enjoy it! I get to bring homes and people together and help guide a major life process which is a truly rewarding experience for me. I teach first time homebuyer classes and keep up to date on the latest market trends and lending requirements. I cover a wide area including the Huntley Project areas, Billings, Laurel, Red Lodge, Roundup and everywhere in between! I specialize in residential and first time buyers and would be glad to provide a free market analysis to anyone who is considering selling their home.
I am also a licensed educator and received my Masters degree in Elementary Education. I student taught at Huntley Project and have worked as a substitute teacher when I can. I enjoy working with children and have coached softball, soccer and basketball. I hope to continue to do so as my children grow and continue to be more involved in the community.
Don't hesitate to give me a call for any reason at (406) 671-0848.
About Metro Realtors: 
Metro Realtors is a reat estate company in which Nikki provides realtor services for all real estate while specializing in residential and first time homebuyers.  We have over 20 full time agents with two offices in Billings, MT.
Give me a call with any questions you might have at 406-671-0848 or email me at Nikki@nikkizimmer.com!