P.O. Box 252, Worden MT 59088  Or
 748 Railroad Hwy,
Huntley, Mt  59037
Contact

:      Dan Krum at 406-967-3281

Website:  http://hplionsclub.org/
Chartered:    September 1954
The Huntley Project Lions Club meets the 2nd and 4th Tuesday's at Homesteader Hall from September thru May.  Current membership at 31 members, from the Huntley Project Area.  New members are always welcome.  Dues are $60.00 per year, payable in January.
Homesteader Hall is also managed by the Huntley Project Lions Club, Homesteader Hall is available to rent and/or lease for your special occasion, activities, weddings, and group meetings.  Call the above numbers for contact info to rent or lease Homesteader Hall.  The hall rental is $500.00 and an additional $200.00 if decorating is done the night before.  For a meeting, the rent is $100.00.  Evelyn Powell is the contact person for Homesteader Hall at 967-6575.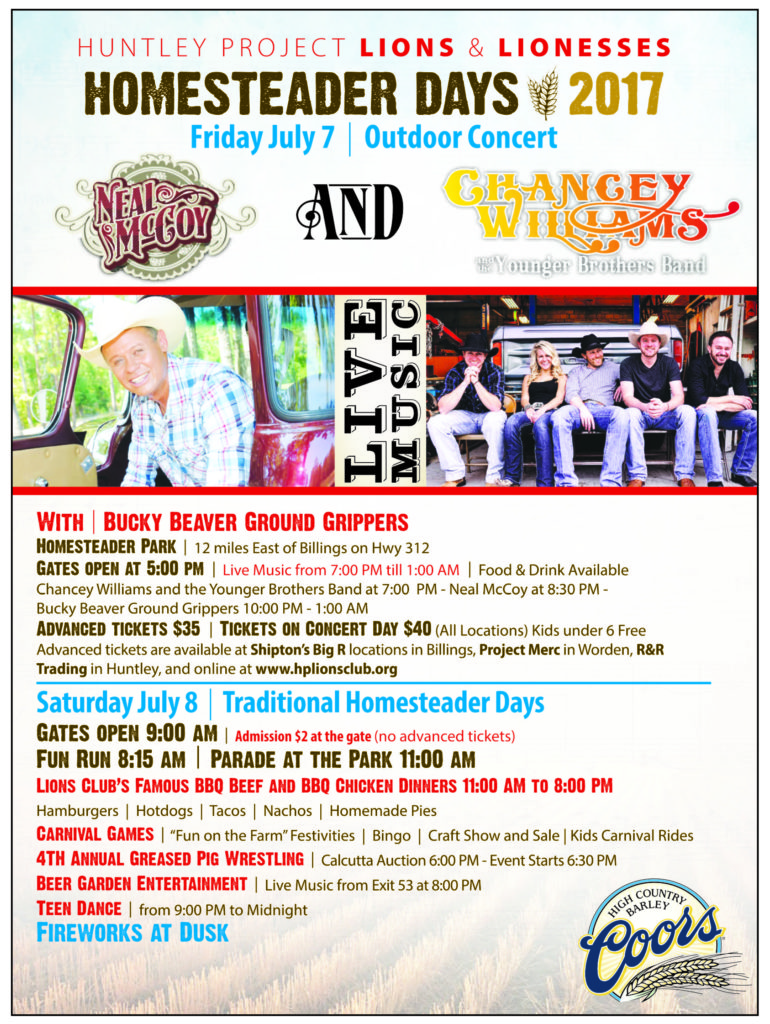 Directions:

Homesteader Days is located at Homesteader Park, adjacent to the State Experiment Station, 15 miles east of Billings on US Highway 312. From I-94, take Exit 6 – Huntley, follow the signs. Homesteader Park is next to the Huntley Project Museum of Irrigated Agriculture.
Huntley Project Lions Club projects supported by  Homesteader Days Proceeds:
• Purchase eyeglasses

• Scholarships for local Student

• Honor Assembly at School

•Easter Egg Hunt

• Xmas Program

• Sponsor Baseball Program

• Sponsor Summer Library Program

• Sponsor Book Purhase Program at School

• Xmas Bright Program

• Food Bank Donation

• Boys State Sponsor 

Biggest Project: 

  Maintain Homesteader Hall and Park.
Over $200,000.00 has been put into improvements.
In 1964, the Huntley Project Lions Club organized the first 'Homesteader Days.' The two-day celebration is held each year on the second weekend in July as a memorial to homesteaders who settled the area. The celebration honors a hardy breed of pioneer who came on foot, by covered wagon, or by immigrant train to carve out a fertile valley in a land of sagebrush and greasewood.