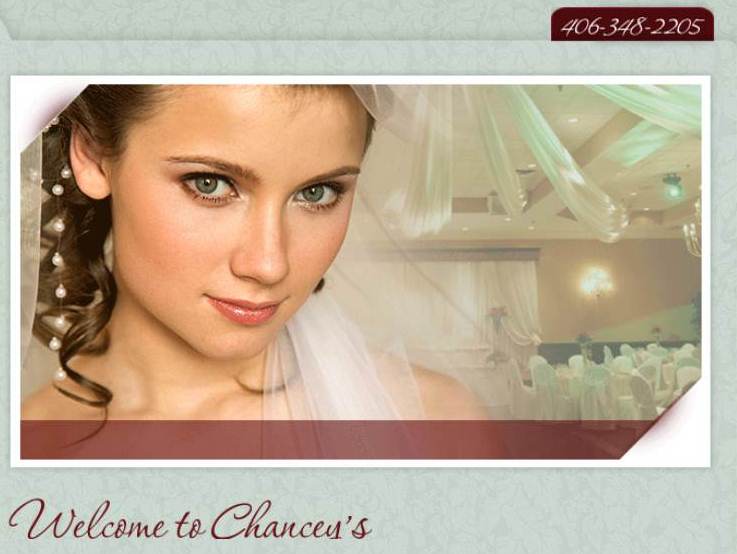 Mailing Address:
266 Hogan Road Huntley, MT 59037
Fax: 406-348-2205
Phone: 406-348-2205
Website:  www.chanceysevents.com
Experience life with Elegance!   
Come and visit our country-feeling wedding and group event center

. 
Experience the elegance and seclusion of our spectacular facility! This brand new 7,800 sq. ft. building offers a classy, unique atmosphere for a romantic wedding or planned party. With our beautiful foyer, private bridal suite, stunning chandeliers, spacious patio areas, and peaceful scenery, we will help assist you with your special event.
Chancey's also offers a variety of rentals to make your important day that much simpler. Tents, chairs, sound system, table cloths, napkins, dinnerware, and the list goes on.
Facility: 
Chancey's Event Center includes a 7,800 sq ft hall, which is open to  accommodate everyone's dream wedding or special Event.  In addition, there are three outdoor patios, which not only add  seating, but also provide an intimate gathering place for guests.
About Us:
The Siewert family has been farming and ranching here for over 50  years. All our friends have always called our place God's country. So  we decided this would be a great way to share the beauty of our place  with others. Paul and I have 7 children and 6 of them are girls.
Services:
We provide the event center for different occasions, gatherings and group parties.  We are primarily set up for country weddings.  Whether they are outdoor or indoor.  We can also provide you contact for a wedding planner.  Please feel free to ask us about bridal questions and see if we can either help you or refer you for premium Billings Montana wedding vendors and services.
Location:
Chancey's Event Center and Wedding Venue has all the materials and wedding apparrel for the bride to be. As we are located 10 miles outside of Billings, MT off Pryor Creek Road; our country setting is perfect for any wedding, event gathering or bridal shower.  We are located close enough to Billings yet far enough away to enjoy the beautiful Montana outdoors
Since 2008, Chancey's is now available for weddings, receptions, family reunions, church functions, business meetings and corporate retreats. When you have your event at chancey's, you are creating a true, Montana Memory. At our venue, you are welcome to bring your own food and beverages and use the modern kitchen in the Main Kitchen area and/or have your food or select from one of our recommended caterers.
Check us out at www.chanceysevents.com for more info.