4941 Shepherd Acton Road
Shepherd, MT 59079
PH: 406-373-0138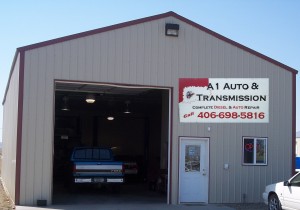 We, at A1 Auto & Transmission, are automotive service professionals you can trust! Our technicians are ASE, GM Master, GM Mark of Excellence Platinum Level, ATRA certified and we use the latest tools and equipment when servicing your vehicle. We've been helping drivers in Yellowstone County since 1994. A1 Auto & Transmission specializes in all gas or diesel vehicles. We take pride in offering our customers quality service and repair at a fair price. We hope to help you soon!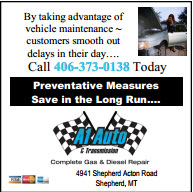 Here are the automotive services we provide:
| | |
| --- | --- |
| A/C Services | Accessories |
| Belt, Hose and Filter Replacement    | Body Lift Kits |
| Brake Flush | Brakes |
| Cooling System Flush | Cooling System Service  |
| Courtesy Check-up | Diesel |
| Drivability Diagnosis   | Electrical System Diagnosis & Service |
| Emissions | Fleet Service |
| Fuel System Service | Headlight Lens Restoration |
| Oil Change | Performance |
| Power Steering Flush | Preventive Maintenance 30/60/90k |
| Stereos | Suspension |
| Timing Belt Replacement | Transmission Service Repair |
| Transmission Flush |   |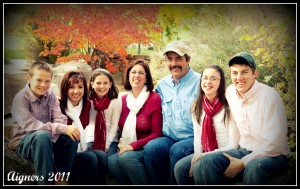 We are locally owned and operated since 1994.  Located in Shepherd Montana, minutes from the Shepherd High School. We service vehicles locally and autos from Billings, Roundup, Huntley, Worden, etc.  We are a certified auto repair business.  Give us a call to service your auto.
About the Family Business:
About the family business….
A1 Auto & Transmission repair shop is located about a quarter mile from the Shepherd post office an a few feet from their home. Before opening his own shop in 2006, Aigner was employed at Rimrock Auto and Frontier Chevrolet in Billings as well as Rapid Chevrolet in Rapid City, SD but he says he's been working on cars since he was a kid.
"My grandpa was a me­chanic," Aigner says, adding that he has been a mechanic since he graduated in 1981 from Newell High School in Newell, SD. He attended the University of South Da­kota at Springfield in his home state, and eventually moved to Montana for a change. The Aigners made the move in October of 1993, and have been in the Shepherd area since 1994.
"I started in a little two-bay Chevy dealership in Faith, South Dakota, now I'm in a shop of my own with repeat customers and new ones added weekly sometimes daily" Aigner says.
As a GM mechanic, Aigner was ASE Master Certified for the last 20 + years. Now called the Mark of Excellence, Aigner was the highest-ranked me­chanic in the five-state region last year. It is a nationwide test that shows the mechanic's knowledge on all GM prod­ucts. Aigner was also Plati­num Master Certified, which is an honor that brings a gold ring and one diamond for each additional year of the certifi­cation. He has earned five or six diamonds. Aigner is proud of the accomplishments, but does not wear the ring for safety reasons. He is GM cer­tified, but qualified to work on any make of vehicle.
"I strive to keep up with the training and certifications," Aigner said, noting that the industry moves so fast that it is almost necessary.
Todd's wife Jenny does the bookkeeping and parts running for the small business. They have five children, the oldest, Tyrell, is following his dad's footsteps and currently working for Denny Menholt Frontier Chevrolet as a line tech, Tambria, Leah, Thomas and Kennedy are all students in Shepherd School District.
The shop offers all that a deal­ership does in the way of re­pairs, including specialized information. "It's worth it to seek out professionalism," Aigner said, adding that there are many qualified professionals out there. "You can get good quality at a reasonable rate, and you don't have to go to a dealership."  Todd specializes in complete GM and diesel repair.
For more information about A1 Auto & Trans­mission or for questions about services; call Todd at 406-373-0138.